Serrano (1/2 day)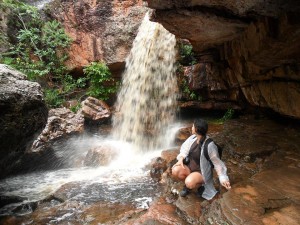 Parque da Muritiba Tour.
The trip to Serrano (Parque da Muritiba) is perfect for those looking for a shorter trip, The trail lasts just 3h30min (half a day).
The Parque Municipal do Serrano is one of the main attractions in the Chapada Diamantina and is where you can find places such as the Salão de Areias Coloridas (room of Coloured Sand), natural pools – also called Caldeirões, the Primavera and Cachoeirinha waterfalls, the Poço Halley and some wonderful views.
The trip begin with a walk of about 15 minutes from the centre of Lençóis.
Times: from 8.30am to 12.00 or from 2.00pm to 5.30pm
Difficulty level: easy (8 km walk (there and back) + 1 bathe
Price: R$ 181,44 per person
Included: Accredited guide and specialist in Ecotourism, insurance and 1 x 500ml mineral water
What to bring: Sunglasses, sun cream, insect repellent, swimwear, cap, camera, sweater, water