Cachoeira dos Mosquitos and Serra das Paridas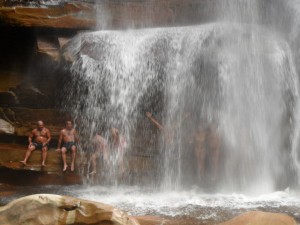 This trip is known for being a little lighter and perfect for those who want to take it a bit easier. The trip to the Cachoeira do Mosquito is by 4×4 car and includes a light walk, a swim in the waterfall and a trip into a cave which takes you back to the times of the cavemen with it's pre-historic rock carvings made about 8000 years ago.
The stop at the Cachoeira do Mosquito – named after the ancient discovery of tiny diamonds nearby, is where you can take a luxurious swim in the waters of the waterfall, after which, lunch is ready and you can enjoy some time to appreciate the upper part of the waterfall. You will then take the car to the Complexo Arqueológico Serra das Paridas, an archaeological compound consisting of 18 sites, with thousands of pieces representing animals, people and geometric figures.
You are able to buy souvenirs of the Serra das Paridas, made by the people of the region. The trip will end by watching the sunset within the site of the Serra Sincorá.
Leaving Time: 8.30am
Arrival Time: 5.00pm
Difficulty Level: Easy (1 km walk (there and back) + 1 bathe)
Price: R$ 187,00 per person
Included: Transport, registered guide, snack, entrance fee to the Cachoeira do Mosquito and the Serra das Paridas, insurance and 1 x 500ml bottle of mineral water
What to take: Sunglasses, sun cream, insect repellent, swimwear, hat, camera, sweater, water.